CS Hacks Guide – How To Download and Install Hacks
This guide/tutorial will take you through the steps of downloading, extracting and running cheats and hacks for Counter-Strike (CS 1.6).
Steps shown in video above:
Find a hack you like and download it (watch out for some websites – they might include a virus!).
Extract the hack anywhere except your Counter-Strike directory! To extract .zip or .rar files you will need a program. We recommend 7-zip or WinRar. WinRar can be downloaded from https://www.rarlab.com/download.htm.
Read the readme.txt file for further insructions – normally you just have to run the hack and then start the game.
NOTICE: Most cheats run in OpenGL mode. Go to Options – Video – Choose "OpenGL".
Done !
Follow us on Facebook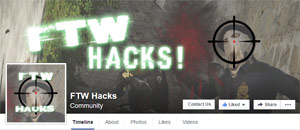 Subscribe to YouTube