Universal Aimbot 2.4
Description and features
Features:
Universal Aimbot
Requirements:
1. You will need colored skin CT models or colored T models which a material wallhack has, the models can be any color.
2. .NET framework 3.5 is required. You should have it already through windows update.
Virusscan results
Download Universal Aimbot 2.4
File Password
www.tobys.dk
Related Content
This cheat has been downloaded 39.373 times.
Follow us on Facebook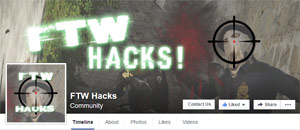 Subscribe to YouTube